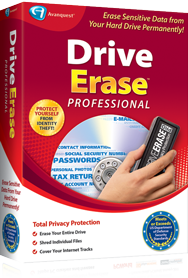 Fix-It Drive Erase
Pro
Secure File Erase
Permanently Erase Deleted Files
Advantages
Permanently erases all of the data on your hard disk - or just the files you select.
Meets or exceeds US Department of Defense security standards for secure file erase software.
Ideal for restoring a system after a virus or spyware damage.
Create a boot CD for 100% hard disk erasing.
Choose from seven data destruction options.
Compatible with all Windows drives - IDE, SCSI, USB, FireWire and more.
Disk Viewer utility shows proof that data has been deleted securely and permanently.